Parking lot business – The planning guide
Parking lot business – The planning guide
With a significant increase in the number of malls and shopping complexes in urban as well as semi-urban areas, there is a grave need for a fine arrangement in parking. According to Statista, in Europe alone, the smart parking market is likely to report more than USD 19 billion.
For this lucrative business, tech entrepreneurs have a tickling fancy to learn the parking app development procedure. If that is the case with you, you need a foolproof parking lot business plan, and then you find and opt for the best mobile app development company that suits your requirement.
Why is parking lot business profitable?
Is parking lot business profitable? This is an unavoidable question for any business person. Well, digital solutions can leverage optimum business benefits for entrepreneurs. A parking lot application can assure a steady income source because of low maintenance and high demand in the market. An average of USD 60 can be charged per space per day in the downtown area, according to industry experts.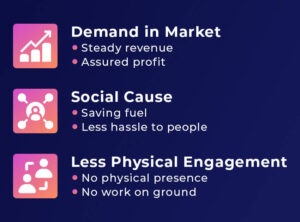 Demand in market: parking space business is on the rage these days. Hence, there is a fair chance that your parking services shall gain you a steady revenue and assured profit.
Social cause: if you believe more in contributing to a noble cause, a parking lot startup is a great initiative. You can save fuel by allotting parking spaces in a jiffy and offering visitors the pleasure of hassle-free organization at the event.
Less physical engagement: Since the parking lot business plan includes operating the venture through a parking space mobile app, you don't need to be physically present at the spot. There is no groundwork required once you have settled everything in the first stage.
According to Business Wire, the US parking lots and garage industries have reported their worth of nearly USD 10 billion despite the historic hit of the pandemic. The growth forecast is even stunning with a whopping annual growth of 4.8% through 2023. That said, there will be a grave need for parking lot applications for iOS and Android platforms.
A step-by-step guide to start a parking lot business
Finding parking space has become one of the biggest hassles for urban dwellers, and the problem is not just restricted to one particular event or concert, it is a regular issue in metro cities. To start a parking lot business comes with two major options: you already have a parking space or you don't own one. In both cases, the strategies for building a parking space business diff.
You own a convertible space
This is the best part. If you own space or ground it is convenient to convert it into a parking lot. Here are a few steps you need to mind while doing it –
Parking lot size
You need to decide on the parking lot size because if you are doing it for a university, the space required is much larger than compared to a restaurant. Some industries define code requirements for parking based on the square feet of the space. Even further, you should also mind the space per vehicle which is generally 9X19 feet to accommodate any domestic vehicle of guests.
Pavement thickness
The asphalt holds the entire weight all day and, therefore, durability is a key concern for any parking lot business. The quality of soil and other pavement materials matters depending on the thickness you want.
Parking space angles
Angles with 45-60 degrees are considered an ideal measure for parking slots; thus, maintaining it while building newer spaces shouldn't be missed. It is evident that a parking space angle of 90 degrees creates a big hassle.
Layout design
Following layout design guidelines shall help you manage your parking space business smoothly. A number of factors are kept in mind while creating a perfect flow that helps drivers direct traffic clearly.
For safety, it is important that you don't miss the ramps, drainage lines, and lights in your space. Marking the cables and pipes beneath the ground will help your contractors locate the danger and work on repairs (if needed) accordingly.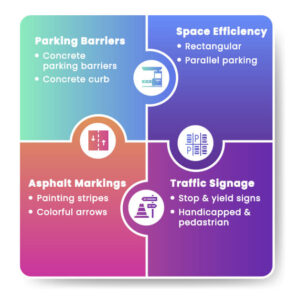 License – a special requirement
Apart from the above-mentioned preparations, arranging for a needed license is a special requirement for any parking lot business. The rules and regulations vary from region to region; hence, you need to check with the local government authority to prepare for the required license. For instance, In New York, PLL (Parking Lot Licence) is mandatory for parking space businesses. The New York City Department of Consumer and Worker Protection (DCWP) issues this license. It has specific renewal fees and renewal cycles that shouldn't be missed by business owners.
You don't own a parking space
This is a common case – you don't own any space but still want to be interested to create a parking lot app and flourish your business. The good news is that it is possible; nevertheless, as mentioned earlier, the strategies and steps to build a parking space business will change.
Study competitors
One of the prerequisites to getting into any business venture is the thorough study of peers and competitors. Market research and feasibility studies based on demographics and psychographics will help you build a foolproof parking slot business strategy.
Stay clear, legally
You may select a general partnership, limited liability, or be a sole proprietor for your parking space business. In the US and most countries around the world, operating a parking business application without licenses, insurance, and permissions is not possible. It is imperative that you contact an agent or attorney for all such legal issues.
Trademarks, copyrights for intellectual properties
Especially when you own the space, intellectual property trademarks and copyrights are important. In the other case, where you only own and operate a parking lot business application the trademark and copyright issues must be handled carefully. Such legally approved logos and trademarks are important across the online presence and print media for your business.
Parking lot business documents
Other than permissions and licenses, there are many documents you need to operate a parking lot business application. Again, an agent or attorney can help you overcome this hassle. The legal advisor can also help you stay clear in terms of paperwork and receipts you may need while operating the parking slot business. Even with a mobile app for car parking, you may have to generate a receipt for the payment. In the US, other documents required include …
DBA & EIN
Certificate of Incorporation
Company Bylaws
Online Terms of Use
Operating Agreement for LLCs
Business license and plan
Memorandum of Understanding (MoU)
Online Private Policy Document
Federal Tax Payer's ID
What should you have ready for parking lot business?
When you want to hire developers for parking lot business, you need to have several things ready as a business plan so that there is no last-minute hassle.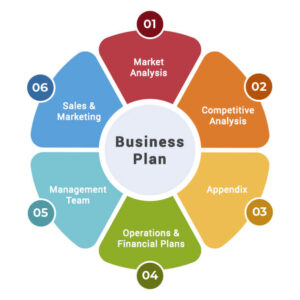 Market analysis: conduct market trend research such as consumer demands and parking lot business prospect growth as well as SWOT analysis.
Competitive analysis: check for peers and competitors in the market, especially the locals. Study their strength and weakness in their parking lot business mobile apps. What they lack, you may include in your parking space app development.
Sales and marketing: develop your sales and marketing plans as per your competitors' USP and business approach.
Management team: you may create a management team with relevant professional background. If needed, you may design the corporate hierarchy when the parking lot business grows.
Operations and financial plans: operation plans such as procurement, assets and equipment, and logistic details should be carried out along with three-year financial planning and funds arrangement to be on the safer side.
Appendix: additional finance or business documents come under the appendix and it should be kept handy for any quick reference or show.
Hire developers for the parking lot app
It is crucial to understand the core of business before you take up your project. A guide on turning an app idea into a pro solution will help you understand how thoughts are put on paper and then executed as a final product. Once you are thorough with the process, it is time to find the best talent in the industry.
Here, as an entrepreneur, you ought to know the knack of how to hire developers for your app development project. Once the mobile app developers are finalized for hiring here are the steps to follow
Approach and discuss
After selecting your tech partner to develop the parking lot app, you need to contact them with your business approach and plan. It is also highly recommended that you ask important questions to learn their credibility. Discussing with their business and technology consultant shall help you understand the blueprint of your idea better. This is important because not all ideas are feasible to make into a product.
Once the tuning with the mobile app development company is set for understanding the project, you may discuss the cost to develop a parking space business app.
Design
A lot is spent on mobile app design, and the parking space business app is no exception. In fact, street parking requires neat and clean graphics to make vehicle owners understand the available space in the parking lot. Hire the best UI/UX designers experienced at designing apps similar to your parking app from the chosen company and they help you by providing an engaging app with high-resolution graphics.
Development
All UI/UX designing components on the parking app shall be turned into a fully-functioning entity and, therefore, parking service app development is the core of the entire software development lifecycle. Assuring the proper tech stack selection for the parking apps with the developing teams, you may ask them to proceed.
Execute and deployment
The parking lot business app development goes through a rigorous process of the software development lifecycle (SDLC) that assures a fully-functional application is built as per your business objectives and a predefined scope.
In the final stage, the software product is tested through stringent measures for quality assurance. The beta version probably with MVC shall help you save money and have a clear plan for the future about adding extra features and facilities as per the market requirements and customers' demands.
Are you ready to launch your parking lot business?
This guide on how to start a parking lot business has included all the necessary steps and procedures you need to follow to turn your thoughts into a tangible business. You may now work on executing this plan to become a part of the multibillion-dollar industry of the parking business.
The post Parking lot business – The planning guide appeared first on TopDevelopers.co.