The Etsy Business Model, How Does Etsy Make Money?
The Etsy Business Model, How Does Etsy Make Money?
What started as a small website in 2005 has now transformed into a company that has garnered $1.7 billion in revenues in 2020. Etsy, an online marketplace for artists to sell handmade, unique products to interested audiences worldwide, has proven its worth as a successful business model. Many people compare the Etsy business model
With that of Amazon or eBay. The difference between Etsy and other large e-tailers is that Etsy operates in a more niche segment, and it focuses on providing incredible value to shoppers and merchants registered on its site.
Many entrepreneurs want to build a business like Etsy in either artistic or other niche categories. In this blog, we will dissect the etsy business strategy and have a look at the reasons for its success.
Etsy Business Model
The business model of Etsy will answer your questions like what is the value proposition of Etsy? Who are its customers? The cost structure of Etsy? Etsy's distribution channels? How does Etsy make money?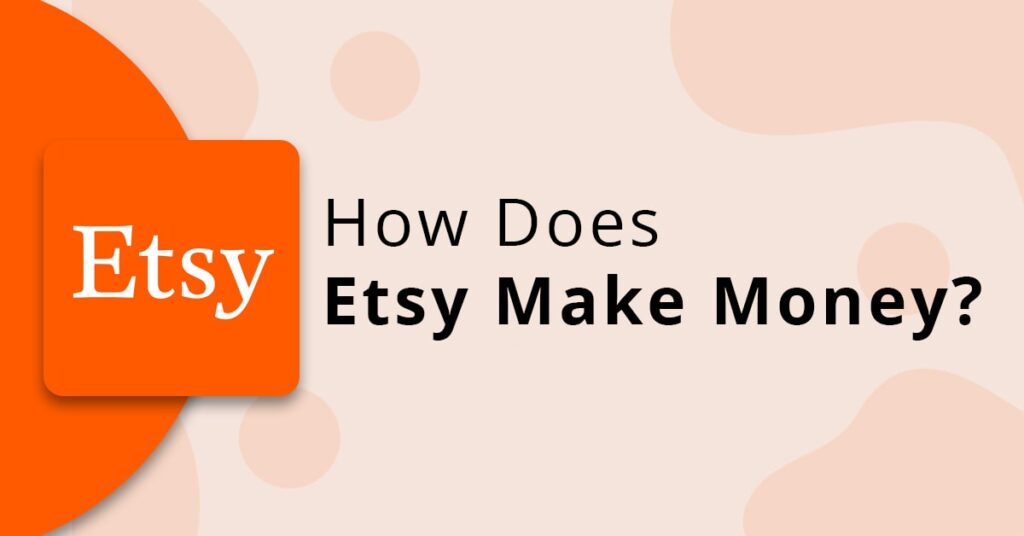 Etsy's value proposition
The value proposition of Etsy for sellers is that it allows the artists and collectors having vintage products to sell their products online without worrying about the hassle of international shipping.
Etsy allows the sellers to showcase their products to the world while setting their preferred selling price. The sellers can display as many products as they want, and they can even tag their products so that the buyers can easily find them.
The value proposition for buyers of rare items and handmade products is that they can order these products from the comfort of their homes.
Distribution channels of Etsy
Robust distribution channels are the strength of Etsy. Through these distribution channels, Etsy is able to reach a wider audience and sell its products efficiently.
The following are the distribution channels of Etsy.
Etsy's own platform
Social media handles of Etsy
Events and workshops on Etsy
Developing partner programs
Advertising online and offline
The word of mouth method
The cost structure of Etsy
The following are the various areas where Etsy spends money to keep the platform up and running.
Customer service
Shipment costs
Maintenance of the platform
Marketing costs
Salary
Seller education
Etsy revenue model
Etsy has a wide range of revenue models as it makes money through transaction fees, listing fees, advertisements, payment processing fees and subscription fees. Over the years, Etsy's business model has evolved, and now the company monetizes at many stages throughout the buyer journey.
Here we will examine the revenue model of Etsy in detail.
Listing fees
Etsy takes a flat fee of $0.20 for every item that the sellers list. The sellers will be charged money regardless of the fact whether the item sells or not. If the sellers, however, choose to post the item on Private, then they are charged only when the item sells.
The listings on Etsy.com expire after four months, and the sellers will have to pay the renewal fees of $0.20. Unless the sellers choose, the listings would be automatically renewed after every 4 months.
Promotional and advertising charges
Etsy promotes the products of the sellers listed on its platform by providing them promotional and advertising fees. Etsy offers services like Etsy advertisements and offsite advertisements.
The Etsy ads appear in the following spaces.
Search results
Category pages
Market pages
The advertisers are charged only when the users click on an advertisement. The CPC(cost per click) rates will differ across various advertising spots, categories and countries.
Apart from promoting products on its own website, Etsy also helps the sellers by placing offsite ads on third-party platforms like social media platforms and search engines. Etsy collects fees for offsite ads only when the user clicks the offer and completes the purchase within 30 days of the click. Etsy calls the orders fulfilled through the offsite route as attributed orders.
The seller pays around 12-15% of the sale price as a commission when an offsite sale is made through Etsy's efforts. The amount of commission paid through attributed orders generally depends upon the Etsy shop's sale over the prior 365 days.
Pattern
The sellers on the Etsy platform can build their stores independently using Pattern, which is a website builder. Pattern offers the sellers a lot of benefits, including the ability to build an unlimited number of listings, a detailed web analytics system, email marketing, blog and social media sharing. For sales conducted through Pattern enabled websites, Etsy does not charge listing or transaction fees. For users choosing Pattern, Etsy does not charge any fees for 30 days. After 30 days, Etsy charges $15 as the monthly subscription fee.
Transaction fees
For all sales made through its website, Etsy charges a 5% commission. The merchant may also be charged for shipping and gift wrapping a product. Even after increasing its transaction commission from 3.5% to 5%, Etsy has been able to maintain its standing as one of the most affordable options for sellers. The competitors of Etsy, like eBay and Amazon, charge anywhere between 8-15% as their commission.
Subscriptions
For those sellers who want something extra, Etsy has an offering named Etsy Plus. The service has several sales-boosting features, and Etsy charges $10 per month as the subscription charge.
Etsy Plus features
Advanced customization options
Perks like business cards and customized shipping boxes
Notifies the interested customers when items are back in stock
Etsy credit of $5
Credits for 15 listings
Free .store domains
50% discount on .com and .net registrations
Payments processing fees
To ensure a truly hassle-free experience for its international sellers and customers, Etsy offers a wide array of payment methods in a lot of international currencies. The customers can pay through the following options on Etsy.
Debit cards
Credit cards
Gift card
Etsy credit
PayPal, Apple Pay and Google Pay
To facilitate these payment transactions, Etsy charges a flat fee in addition to a percentage commission. While the flat fee is typically $0.3, the percentage commission ranges from 3-6%. The exact transaction amount will depend on the country where the seller's bank account is located.
Etsy gains almost 1/4th of its revenue from the services it provides to the sellers. The ambitious sellers will try to outcompete others on Etsy by availing the services that Etsy provides. Established marketplaces like Etsy benefit not only from the sales commissions, but also from the competition between sellers.
Etsy's revenue from services makes up almost a quarter of its total revenue. This illustrates how established marketplaces benefit not only from commissions but also from their sellers' keen competition.
Reasons for Etsy's success
Etsy's phenomenal success as a marketplace can be attributed to the fact that Etsy chose a narrow domain of art and collector's items. While competitors like eBay and Amazon also list out such items on their platform, they were unable to replicate the success of Etsy in the art and collector's items domain. We will have a look at the reasons for the phenomenal success of Etsy.
Accurate search results
How Etsy works to deliver accurate search results to its users is one of the primary reasons for Etsy's success. Etsy has a result-oriented search algorithm that provides the users with precisely what they are looking for and not just with matching search terms. On Etsy, the users come to find customized and vintage products, and these products will be unique.
Hence it is very difficult to prepare a search algorithm that provides the exact search results for these products. Etsy has done a great job in doing this, and this is one of the major reasons for Etsy's success.
Word of mouth advertising
Word of mouth advertising is still one of the most effective forms of advertising and an important part of any mobile commerce strategy. When it started, Etsy was the only site that sold art and vintage products. A lot of Etsy's initial customers were women, and Etsy relied heavily on word of mouth publicity. Etsy has revealed that 2 out of 3 customers of Etsy were women and word of mouth publicity in women circles was a major reason for Etsy's sales.
Extended APIs
Etsy provides the developers with its own API. The API of Etsy lets the developers build their own Etsy-powered web and mobile applications. The Etsy ecosystem grows in this way, and Etsy gains new customers.
Robust support to artists
Etsy made sure that it was there for the artists whenever they required Etsy. The company conducted workshops for local artists and stood with them to provide support services to them, including giving business advice. Etsy even disbursed small loans to promising artists in some cases.
The robust support provided by Etsy to the artists improved its standing in the art community, and more artists started selling on Etsy. As more artists joined Etsy, more people started to buy from Etsy, creating a positive loop for Etsy.
Learn from Etsy's business model
Etsy has a robust business model that is built on the trust of artists and buyers of art products. The strong support that Etsy provides to its artists, the fact that Etsy is still the cheapest place to sell customized artifacts and collector's items and the first-mover advantage in the online art marketplace niche are the multiple tailwinds driving the growth of Etsy. The entrepreneurial ecosystem of Etsy has created a virtuous cycle that gets strong with time. It is possible to replicate the Etsy business plan for your local market and even make it better. Contact the top eCommerce developers to build an online marketplace like Etsy.
The post The Etsy Business Model, How Does Etsy Make Money? appeared first on TopDevelopers.co.