How much does it cost to develop an app for Logistics Industry?
How much does it cost to develop an app for Logistics Industry?
The boom of eCommerce has led to the unexpected growth of the logistics sector.
In fact, the global logistics market is expected to reach $12.25 trillion by the year 2025! This comes as no surprise – thanks to the ongoing pandemic- where consumers prefer online shopping from the comfort of their homes. Logistics is a highly integrated supply chain network that follows multiple transportation modes – like air and express delivery services, freight rail, maritime transport, truck transport – to link consumers and suppliers seamlessly.
Logistics is an intricate department and involves many moving pieces that work in tandem to ensure the seamless flow from the order to delivery process. If any of these pieces malfunction, the entire process can go for a toss. How often have you received calls from customers demanding the whereabouts of their package? How many times have your drivers contacted you to report a vehicle breakdown due to issues that could have been avoided way before the journey was undertaken?
An on-demand logistics app will help streamline operations to overlook fleet management, warehouse management, employee management, and customer management- anywhere and anytime!
This article will give you an overview of the features that make up a holistic logistics application, the overall costs incurred in developing a quality-centric app, and the factors that play a major role in determining the cost of the application.
Identify type of app for your Logistics and Transportation app development
The first step to create an application for the Logistics industry is to identify which development model your app development service provider will follow. This will also impact the features to be developed by Top Logistics App development Companies, and ultimately on the cost of building the logistics application. To make it easier for you here we have listed are some most common types of logistics and transportation apps:
#1 Warehouse Management App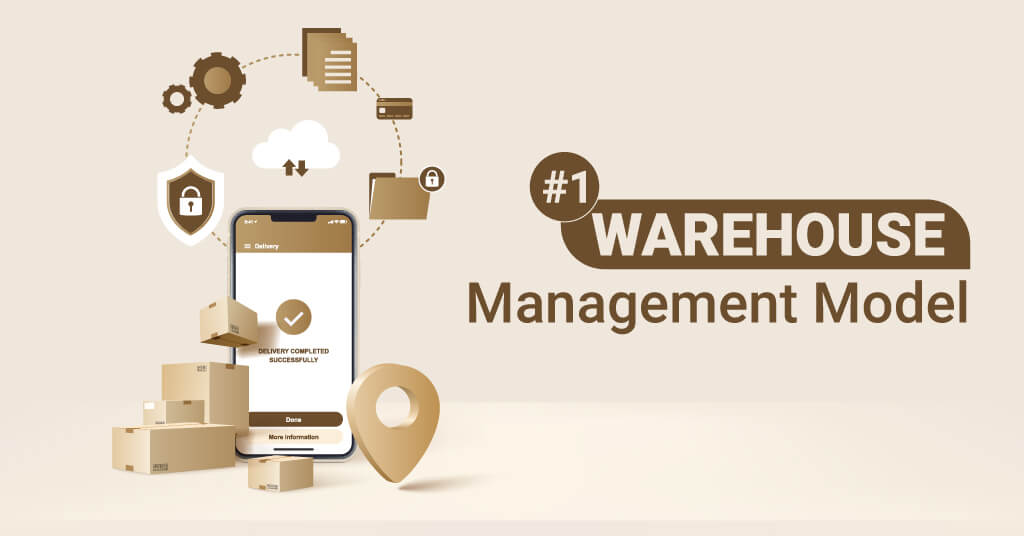 This type of Logistics app will store the data of products in your inventory. The admin can access that data with only a single tap. The app will give information about the accessibility of every item, stock availability in the inventory, information of employees working in the warehouse, etc.
#2 Fleet Management App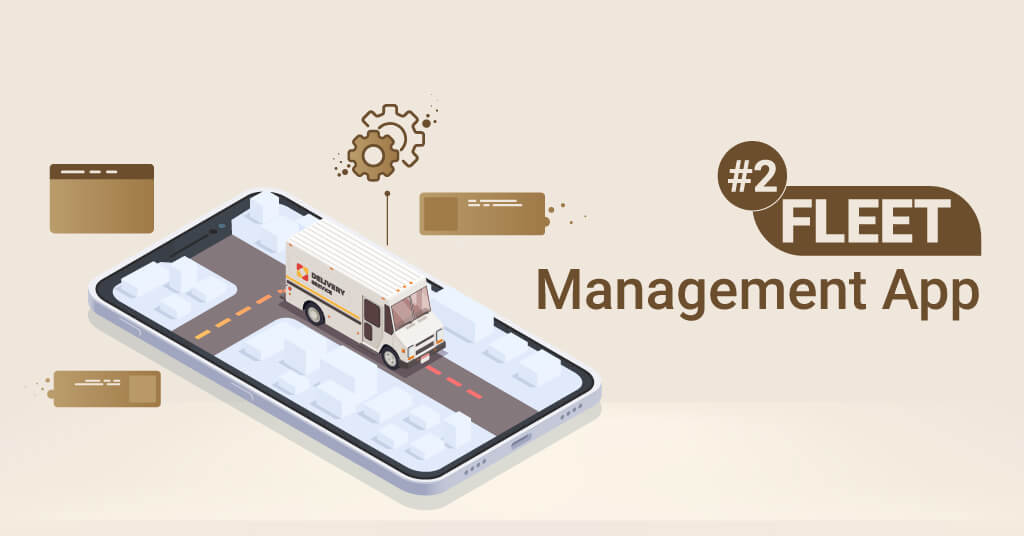 This is ideal for a transportation or courier delivery business to manage the fleets involved. This type of logistics and transportation app can give information about your vehicles regarding maintenance days, related parameters like fuel/gas consumption, routes taken, etc. It can also help you assign a vehicle to each employee while tracking its live whereabouts during delivery time.
#3 The All-in-One App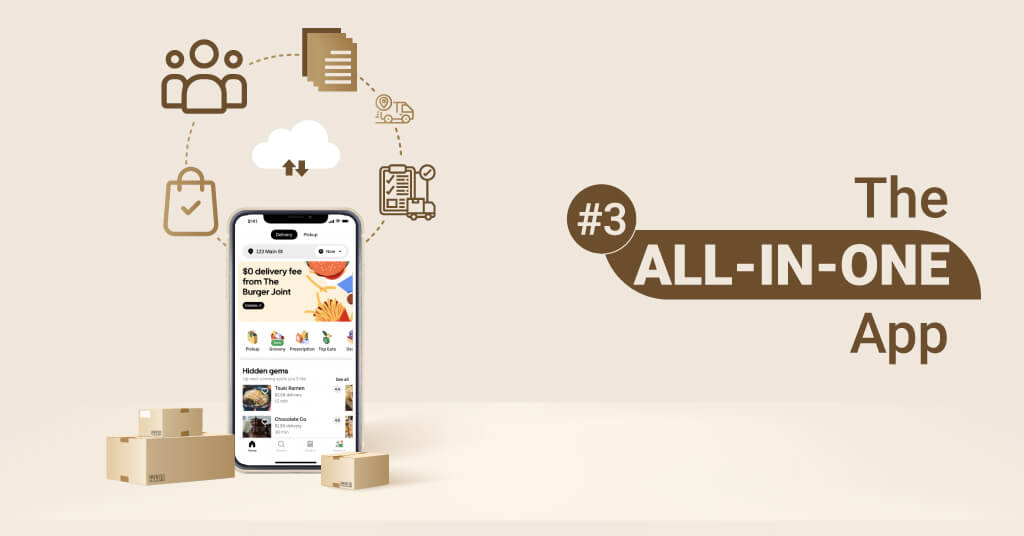 A dedicated app for your users and drivers, along with an admin panel that will help you overlook each of the business operations. Independent drivers will be allocated for each delivery as per the demand. A good example of this is the Uber app.
This is a robust application that will oversee and manage all operations. Some of the features that are included in such types of logistics apps are –
● Order status
● Order Transit Details
● Order Delivery Details
● Customer Details- Profiles, Payment, Order History
● Fleet and Driver Details
● Warehouse Inventory Details
Next, let's dive into the features that are of utmost importance and are required in a logistics app.
Features of the Logistics Application
Considering that you want to develop an All-in-One type of logistics and transportation application, there are three major dashboards to consider while developing the app – user, driver/ employee, and admin. Let's take a quick look at all three:
#1 User-End Features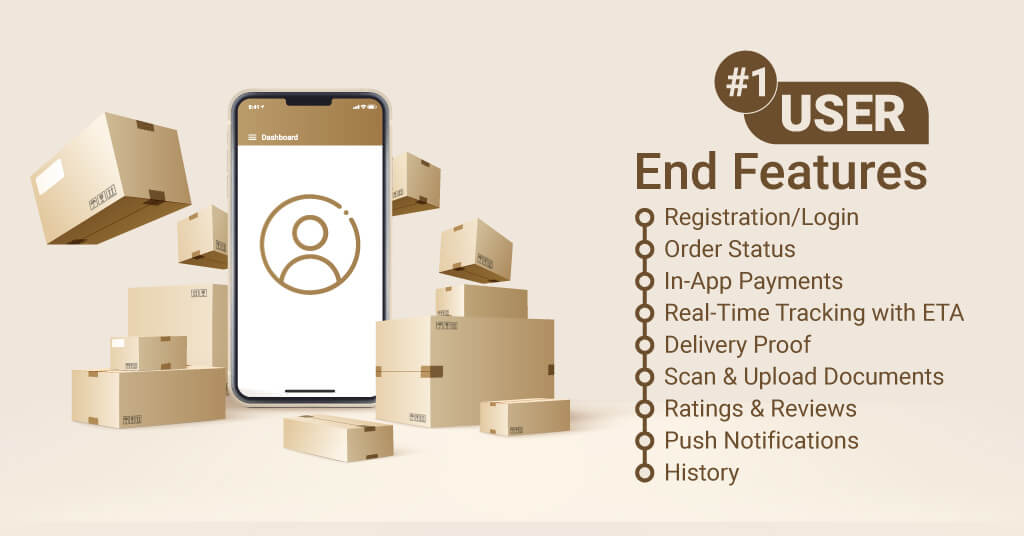 Registration/Login: New users need to register to use the application. Log in is needed to track courier status.
In-App Payments: Users should be able to make in-app payments securely with a 2-step authentication mechanism for safe transaction processing.
Order Status: Users should be able to track the status of their parcels right from the order is accepted by the logistics team to the point of delivery. This sense of transparency plays a major role in increasing customer loyalty towards the brand.
Real-time tracking with ETA: This goes hand-in-hand with point #3. Customers should be able to track their parcels with estimates of when the parcel will reach the destination, intermediate stops taken between the point of origin and the point of delivery, details of courier personnel delivering the parcel and initiations as to the delivery delay.
Delivery Proof: After the customer receives the parcel, they should be requested to digitally sign a receipt as proof.
Scan and Upload documents: In case of interstate or inter-country deliveries, certain norms must be followed in terms of documents to be submitted for a successful order acceptance by the logistics company. The application should allow consumers to upload such documents for verification.
Ratings and Reviews: A user should be able to provide app ratings and reviews for the logistics mobile app as well as view ratings and reviews given by other users
Push Notifications: Push Notifications will keep the user updated on the status of transit and any unexpected delays.
History: This can be introduced as an additional feature. Good to have for users to track previously delivered parcels.
#2 Driver/Employee End Features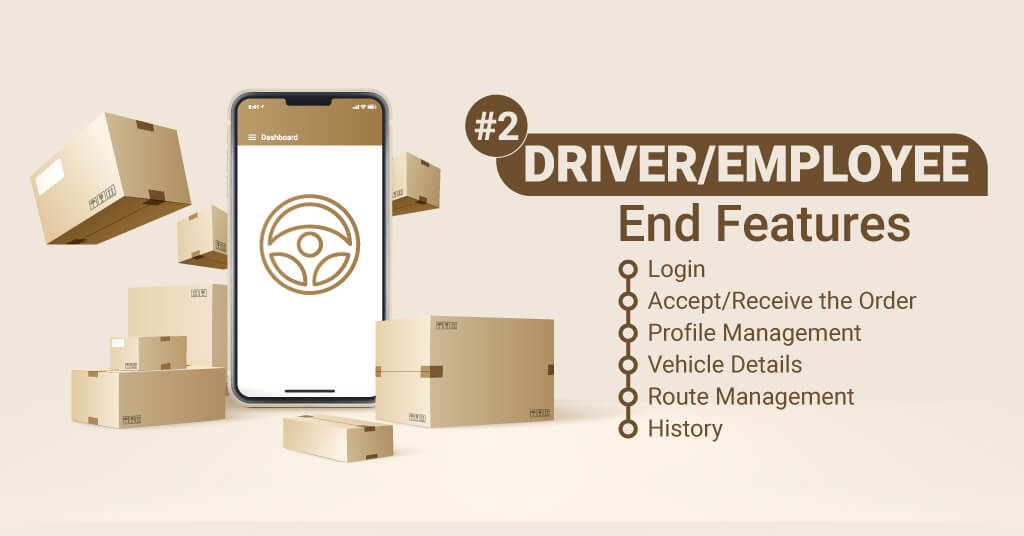 Login: The employee has to log in to the logistics app to see parcels assigned to be delivered.
Accept/ Receive the Order: The driver has to "accept" the parcels assigned from the logistics app to change the status of the order.
Profile Management: The driver can edit his details whenever required. Additionally, the employee can also set their availability to present or absent, and the data will be shown in the admin panel to track employee attendance for the day.
Vehicle Details: This section can indicate the vehicle assigned to the driver, details like fuel consumption, number/ weight of goods to be carried, toll charges in the selected routes, and distance to be covered can be seen via application.
Route Management: This feature will update the drivers on the best route possible to be taken during transit for speedy delivery.
History: This logistics app feature will indicate the history of deliveries made to date.
#3 Admin Side Features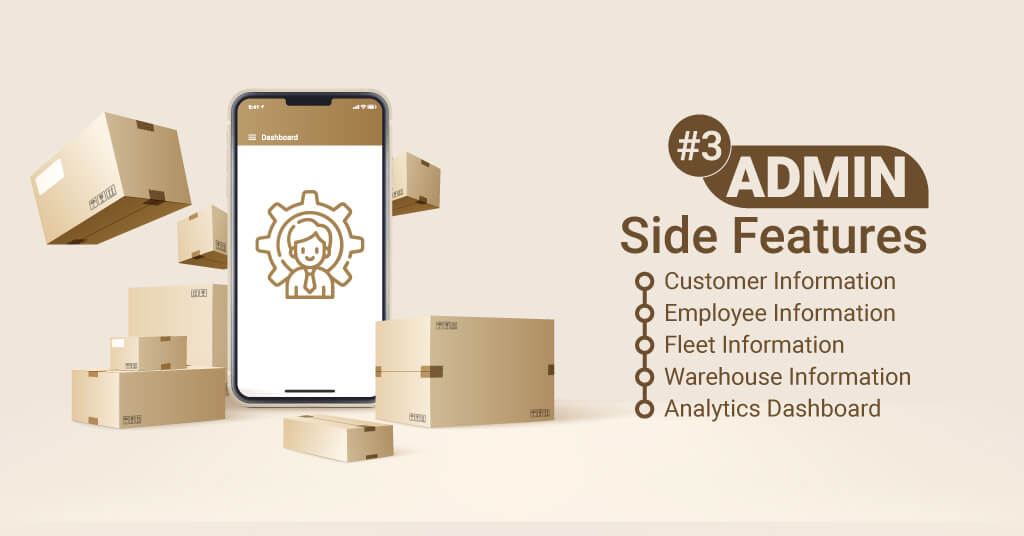 The admin dashboard should overlook all the functionalities of the on-demand logistics app:
Customer Information: Orders statuses, payment information, and customer details information.
Employee Information: List of employees present/absent, information of driver's delivering a particular parcel, driver's using vehicle, and related vehicle information.
Fleet Information: Inventory of vehicles, condition of vehicles, information on vehicles requiring servicing.
Warehouse Information: Location status of every parcel, delivery destination and dates associated with the same.
Analytics Dashboard: To view how the app is actually functioning in managing and integrating information.
How much does the Logistics App Development Cost?
Taking into consideration that your logistics and transportation app will be inclusive of the admin, user, and driver panel, here is a breakdown of additionally factors that contribute to the total development cost:
#1 Technology Stack for logistics app development
The tech stack that you consider needs to be robust enough to keep all the moving pieces in check. This is an integral part of mobile app development that helps to decide both the front end and back end of the application, database, payment gateway, real-time analytics, push notifications, and cloud technology to be used.
Here is a quick overview of languages that can be considered:
● Android: Java, Kotlin
● iOS: Swift, Objective C
● Front end : HTML, CSS
● Back End: Python, Angular, JavaScript
● Cloud: Google Cloud Platform (GCP), Microsoft Azure, Amazon AWS
● Payment Gateways: PayPal, Stripe
● Real-Time Analytics IBM, CISCO, Hadoop, Spark
● Push Notifications: Firebase, Twilio
● Map: Google Map API, Apple map, Waze
#2 Mobile App Development Team Size
The effort required to develop the logistics app will be equal to the cost incurred. Either opt for a team of efficient developers or a well-established mobile app development company to create your logistics application.
The most important members of the mobile app development team will include:
● Project Manager: To overlook timelines and deliverables to be accomplished
● Developers: Android/ iOS: To program the application and make it work
● UI/UX Developers: To design the User Interface and User Experience
● Testers: To test all functionalities of the app before market release
#3 Post Launch Support
The cost of app development may also cover post-launch support. For example, best logistics app developers will be needed to release security patches or provide support after the app goes live.
#4 Minimum Viable Product or Direct Output
A Minimum Viable Product (MVP) is released with the most essential functionalities of the application. Then, based on customer feedback, better versions are created. This empowers app developers to decide which features to retain, drop or add – thereby saving investment in developing a full-fledged application with features that are not necessary.
Here comes the part you've been waiting for. If you want to develop an app with all the features mentioned earlier, a ballpark estimate would be around $25,000-$40,000 and can go as high as $100,000-$150,000 in case of customization or advanced functionalities to be added.
Must Read: How Startups can Reduce Mobile App Development Cost?
In Conclusion
A well-formulated logistics application will not just help in proper communication between users and drivers but also aid in route optimization, convenient doorstep delivery, maximized delivery volumes in minimum time – all the while tracking the moving pieces in a standardized and organized manner.
The post How much does it cost to develop an app for Logistics Industry? appeared first on TopDevelopers.co.