Mobile Website Vs Mobile App- What is the best option for your business?
Mobile Website Vs Mobile App- What is the best option for your business?
Digital entrepreneurs need to make the critical choice of choosing whether to go with an app or a website. Mobile apps are the in-thing today, but is a mobile app really necessary for the product? Should entrepreneurs go with a website and a mobile app or just a mobile app is a big concern these days.
We are a leading IT companies ratings and review service provider that lists out the top web and mobile app development companies across the world. Based on our experience, we have come up with a few things that one needs to consider before making the decision to opt for a mobile app or a responsive mobile website.
This guide will give you the answer to the question – What should I build first – App vs. Website?
Advantages of building a mobile app for businesses
Apps are in rage nowadays and everyone wants to build a mobile app to cater to their customers. Let's have a look at the advantages that a mobile app provides to its users.
Branding opportunities
As a mobile app is a separate entity from a company's website, it offers new branding opportunities to its users. A mobile app allows companies to experiment with new branding techniques and styles. For companies whose website does not offer enough value for the customers, a mobile app may be the way forward as it offers users another channel for engagement.
A major advantage that mobile apps have over websites is that the brand gets its own real estate on the customer's device. This is an important advantage as even when the users are not using the mobile app, they are reminded about the app through the app's icon. The icon of the app presents a huge opportunity for hyper-targeted marketing and provides a level of customer engagement that cannot be matched on any other channel.
Personalization
Personalization is all about offering a tailored experience to the users based upon their interests, usage behavior, location and more.
Mobile apps allow companies to offer a more personalized experience as mobile apps let the user set up their preferences and customize it to suit their needs. Using mobile apps, the companies can identify the users' location to provide location-specific content such as special promotions or deals at a particular store location.
Utilize the hardware
A major advantage that a mobile app has over the website is that a native app can interface with the device's hardware, such as camera GPS location and so on.
Having access to the hardware of the device is particularly important for retail apps, as it helps in enhancing the customer experience significantly.
Here are a few features that a mobile app can provide with its access to device hardware
• Push notifications
• Device vibration/ alerts
• Camera scanner
In contrast, mobile websites come with very limited features when accessing device's features.
Mobile websites, in contrast, are very limited when it comes to accessing a device's features.
Offline access
Many mobile apps can run without an internet connection and provide basic features to the users in offline mode. Users can access information anytime, anywhere without depending on the internet with this advantage. Mobile websites cannot perform without an internet connection.
Customer engagement
Mobile apps enable users to become immersed in the experience and they are built with a purpose to address the user's pain points more effectively.
Mobile apps allow for more interactive ways to engage with the users. Rather than looking at the same exact text and images as another website have sent the great features that help the users interact with certain components of the app more effectively.
All these factors of a mobile contribute to boosting the conversion rates and in increasing the customer engagement exponentially
Advantages of building a Website for businesses
Although apps are more popular, websites are still not out of the game and there are many areas where websites excel compared to mobile apps.
Broader audience reach
Websites are more accessible across various platforms and are easy to share as compared to a mobile app. Websites have a much greater reach than mobile apps. This is because apps have to be searched and downloaded in Google Play Store or Apple App Store, while it is much easier to search a mobile website in various search engines. Unlike mobile apps, users do not need to download and store mobile websites; this increases the website's reach multiple times compared to a mobile app.
SEO visibility
Mobile sites are now ranked higher in SEO result pages than sites than mobile apps. Mobile websites provide much greater brand visibility and higher traffic than a mobile app. When it comes to costs, mobile websites prove to be a much less expensive option. However, mobile websites are minimal when it comes to personalization and engagement. As the SEO visibility of a mobile website is higher, more users return to a mobile website than a mobile app
Mobile app or website?
Let us now consider the factors that will affect the decision of going for a mobile website or a mobile app
Reach
For any new digital endeavor to succeed, the website/app must achieve substantial audience reach. A mobile website provides much better reach than a mobile app. It would be a good strategy to build a mobile website first for a new product. In the app vs. mobile website battle, mobile website is the clear winner in terms of user reach.
Frequency of user visits
If the product is such that the user will be opening it many times, then it makes more sense to start with an app. A mobile app is way more convenient, faster to access and keeps the users up to date with notifications. For things like games, to-do lists, notes or social media apps, it is recommended to have a dedicated mobile app. This is because these are the apps that the users are expected to use often during the day and a mobile app will prove to be a much more convenient method for such types of apps.
Need of accessing phone's native features
Various hardware functions of a mobile device like a camera, gyroscope, accelerometer, GPS and other such sensors will work better with a native mobile app. Hence if access to any one of these hardware functions is crucial for the app, then one must consider building a native app and not a mobile website.
Many of the hardware features of devices can now be accessed with a mobile website. Here are a few examples
Smartphone camera using HTML5,
Gyroscope to play games with HTML5,
A few things still are that a mobile website cannot access, like geo-targeted push notifications or in-app notifications. Even if the mobile website has access to some of the hardware features, it will always provide a different experience than a dedicated native mobile app.
Loading speed
Mobile apps are faster to load than mobile websites. The reason is that mobile apps store user data locally on the phone, making it easily accessible. Mobile websites, on the other hand, need to download the data from servers. The extra time required to access data from servers makes mobile websites slower than mobile apps.
Complexity
Given below are the two Google Analytics experiences. The first one depicts a mobile web app and the second one is for a native app.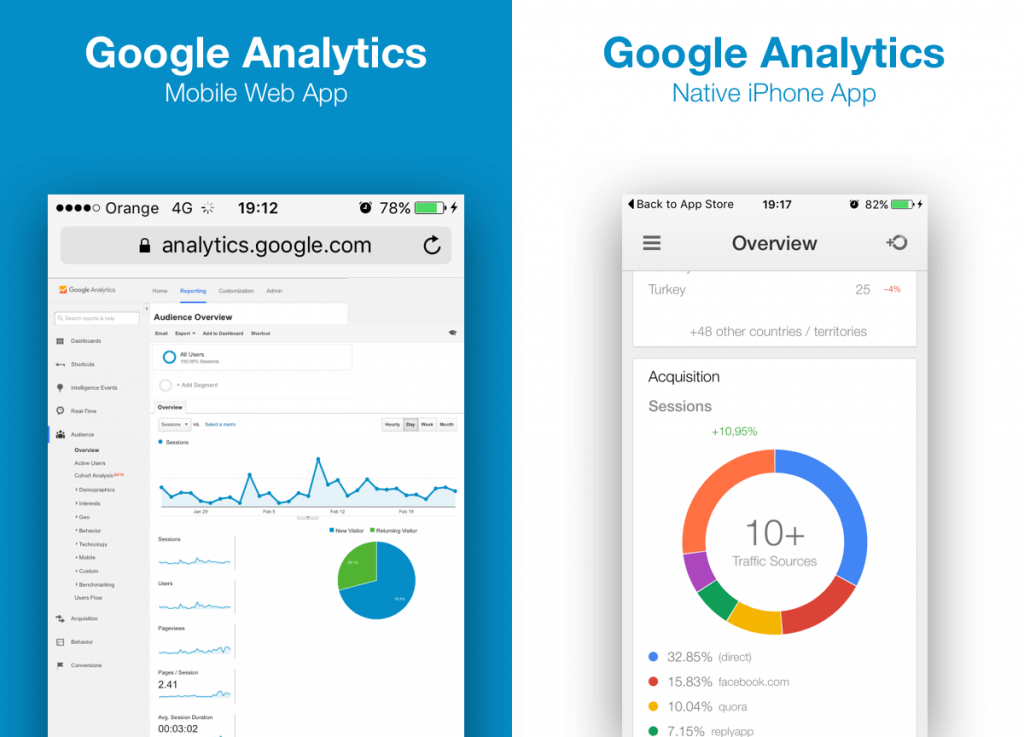 Scrolling, editing and reviewing analytics reports with a web app are complicated as compared to a native mobile app. Also, if the product entails using the phone for complex reporting, calculations and numbers, then you should know that it will be almost impossible to use these tools without a dedicated app.
Budget
A mobile app costs much more than a mobile website. Top mobile app developers will charge anywhere between $30,000 to $700,000 for building a mobile app. This cost is way above the average cost of building a mobile website which is somewhere between $5,000-$25,000. The cost of building a mobile app is high because many times the entrepreneurs need to build two separate apps for iOS as well as Android. Building two separate apps entails hiring 2 different development teams which doubles the cost of developing a mobile app. Although using technologies like Flutter and React Native, it is possible to build hybrid apps; the cost of building a mobile app still outweighs that of building a mobile website.
Does the product need constant updates?
If the product needs constant updates, then the entrepreneur should definitely go with a website first. One can jump to cross-platforms apps later on. Most of the news, media and bank apps are web-based. Most of the banks, news, and media apps are hybrid because they are web-based. This means that the users rarely have to update the whole application; instead, the website can just update the web content. If the business has 2 separate apps for Android and iOS, then one needs to deploy the app to the app store which usually takes 1-5 days. Entrepreneurs can contact top web development companies to build a website that is easy to update.
Does the competitor have an app?
Many times the decision to go for a mobile app or a mobile website depends upon whether the competitor has a mobile app or a mobile website. Building a mobile app when the competitors are focusing on mobile websites can prove to be the USP for a business. An example would be an app called Clear. While its competitors focused on delivering a desktop experience, Clear focused on providing the best app experience of Apple devices.
Related: How to design a perfect app for the user?
Conclusion
The choice of whether to build a mobile app or a mobile website simply depends on the business objectives. If the goal is to offer mobile-friendly content to a wide audience, then one should choose a mobile website. Cost considerations also weigh in favor of a mobile website. A mobile app can prove to be an excellent choice if a business wants to interact and engage with its customers in a better manner. Many businesses choose to go with both which is absolutely fine as if done correctly both mobile app and website can prove to be of strategic value to the company.
The post Mobile Website Vs Mobile App- What is the best option for your business? appeared first on TopDevelopers.co.