How would mobile app development outsourcing change in 2021?
How would mobile app development outsourcing change in 2021?
Mobile app development outsourcing helps business owners to choose from a large pool of talented mobile app developers to build the application for their business. Stats also reveal that the global mobile app outsourcing market is worth a whopping $88.9 billion.
One of the primary reasons behind the popularity of mobile app development outsourcing is its ubiquitousness. Whether you are a startup or an established firm, everyone can leverage application development outsourcing according to their requirement.
Furthermore, mobile app development in 2021 will be different from what we have seen over the years, especially after the coronavirus pandemic. As the offices were shut, companies around the world were compelled to work from remote locations. This saw an increase in the demand for mobile apps as most of the day-to-day business work and payment transactions are being done online.
As the world still fights this dreaded pandemic, mobile application development is set to take a new turn. This blog will help to see how the pandemic has changed the 2021 trends of outsourcing IT projects and what the future has in store?
Impact of coronavirus pandemic on mobile app development
Since the early months of 2020, when the coronavirus pandemic curve started to shift upwards, the majority of the business sectors went online. This paradigm shift of businesses led to the increase in the popularity of mobile apps and hence mobile app development market increased exponentially. Let's have a look at other impacts of the pandemic on mobile app development in detail.
The rise in demand for mobile apps
Be it news applications or ordering food online or shopping, etc., people turned to their mobile apps for their daily work. The first quarter of 2020 saw a 132% increase in mobile app downloads and installation compared to the same time last year.
Studies also revealed that people spent 90% of their mobile time on apps. The global pandemic also had a significant impact on the growth of on-demand apps.
Increase in the security concerns
Most employees were forced to work from a remote location, there was a steep surge in data security concerns. Business organizations feared that due to inadequate security, the cybercriminals could play with their data which eventually can cause a loss in the business.
As most of the primary mobile applications lacked encryption, there wasa surge in the development of encrypted mobile apps. These apps became popular in a short period as mobile users could trust them with their data.
The other change was to include Artificial Intelligence technology to increase the security of the apps. The USP of AI is fast and takes just minutes to secure the system entirely, and it doesn't require any extra coding.
Custom mobile app development
The coronavirus pandemic brought some unprecedented change and compelled the developers to get out of their comfort zone. The outcome of this situation was surprisingly pleasing. The Top Mobile app developers developed some of the most versatile and custom mobile apps, and added more exciting features to the existing apps to make them more customer-friendly.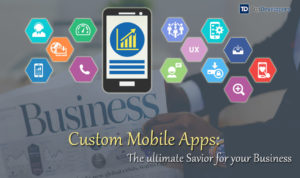 Leading app development firms understood the importance of developing more customer-centric mobile apps for businesses to stay ahead in the competition. Moreover, businesses put more effort into their research process after the pandemic. It is done to understand the needs and wants of the targeted customers and provide them with apt solutions accordingly.
After going through the significant impacts that the pandemic had on mobile app development services, it is time to see the changes in app development outsourcing in 2021 and beyond.
Also Read: Is Your Business Ready for a Custom Mobile Application?
Here we go!
Which one is better In-house or outsourcing app development?
After the coronavirus pandemic hit the world hard and moved it more towards an online existence for the businesses mobile application development in 2021 has earned a greater interest. Businesses are extensively looking to hire the best app development companies.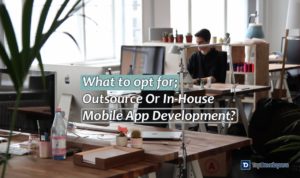 If we look at things from a broader perspective, having an in-house app development team has its perks. An in-house development team will be present for your app development project at once and will know your company's work-culture inside out. The owner can have complete control over the working of an in-house mobile app development team. Also, there are high chances of customizing an in-house app development team to speed up the app development process.
With only looking at the high-flying positives, choosing an in-house app development team over outsourcing will have its drawbacks as well.
With a fixed in-house development team, you will have a limited pool of talented app developers for your mobile application development. On the contrary, with mobile app development outsourcing, you can hire expert app developers with extensive experience in mobile app development services. Opting to outsource mobile app development services will not only help you to include unique customer-centric features in the application, but it is also cost-effective.
A leading app development company will render you a full range of dedicated mobile app developers. Through them, you can solve the problems head-on and substantially curtail the application development time.
Since the hired mobile app development company is not in the same space as their client, the clients would have less personal control. But to overcome this situation, a good project manager can come in handy. Their immaculate communication process will keep both the app developers and clients on the same page throughout the mobile app development process.
Different options for app development outsourcing
If you are a business organization looking to hire best app development firm, you should know what you can opt for outsourcing the services. We will have a comprehensive look at them below.
Assemble a talented team of Freelancer
As a business organization, you can look to assemble a team of high-flying freelancers for your mobile app development process. By doing this, you will have people with various skill-sets under one roof.
Moreover, having a freelancer's app development team can be a cost-effective option as you can pay them on an hourly basis. It also gives you an option of recruiting them for the whole project or a specific part of the project development process. The talented freelancers can give their inputs in other sections and are more aware of outsourcing IT projects' changing trends.
Hiring a full-fledged app development company
The other option will be to completely outsource the app development project to an experienced custom mobile app development company. When you have a full-fledged partnership with a top mobile app development firm, you will have an amalgamation of skill, technology, and analytics, all in one place.
Also, the best app developers' team will bring in an ocean-full of experience with them. Due to their in-depth market knowledge, they will be able to render more customer-centric mobile apps. The hired mobile app development company would study your targeted customer's needs and wants before commencing the app development process.
Since they are aware of mobile app development's latest trends, they will provide the much-needed X-factor to your mobile application.
Tips and tricks to get the best result from mobile app development outsourcing
Outsourcing mobile app development in 2021 can become a tricky thing if you don't know the trade tricks to get the best results. Here are some of the best tips and tricks to help you have a better insight about mobile app development outsourcing.
Extensive research to hire mobile app developers
Before hiring either freelance app developers or a mobile app development company, you should invest time in doing in-depth research. The research should be related to both the technology you will be working with and the app developers' technical prowess.
Extensive research is essential for a business as it makes them understand the technology altogether. Thus, they can put forward their demands in an orderly fashion and keep the app developers on the same page right from the beginning.
The research will help in money matters as well. Since you will be aware of your requirements and the app development company's technical prowess, you can decide their remuneration accordingly.
Knowing the boundaries of your application
If you hire the best app development company, they will leave no stone unturned in giving you the best possible mobile app service. But, if you are self-aware of your app's boundaries and targets, it will give you an added advantage over your competition.
According to the situation, knowing your app's nitty-gritty will help you to choose either a mobile app development company or a freelancer. Moreover, it will also increase your decision-making skill.
Be particular about your budget
It is easy to go haywire with your budget if you are looking to include everything at once in your mobile app. Businesses should plan the most important features and ask for an MVP, this will help to know the market and the features that will further enhance your app. Also, select a leading outsourcing mobile app development company according to the type of your project and budget.
Businesses should also avoid speculations and realize that the difference between freelance app developers and top app development firms is huge.
It is always possible to find and hire the best mobile app development company without making a massive hole in your purse.
Cost of hiring an outsource mobile app development company
There are a plethora of factors that affect the cost of hiring a professional to outsource an app development project. We all are aware that mobile app development outsourcing gives a chance to the business organization to hire the best brains around the world for their app development project requirement.
The costing majorly depends on four factors;
Complexity of the mobile application
Hourly rate of the app developers from the outsourcing mobile app development firm
Geographic location of the app development agency
Total time taken to build the mobile app
The hourly rates of the outsourcing mobile app development companies are divided into four zones with respect to their geographic location.
Zone 1: US, Canada, Australia, and Western Europe: $70-$120 per hour
Zone 2: South America, Eastern Europe, South America, Middle East: $20-$120 per hour
Zone 3: South Asia, East Asia, Africa, and Southeast Asia: $20-$80 per hour
List of questions to ask while hiring an app development outsourcing company-
There are many instances where business organizations fail to ask an essential question while outsourcing the app development project. This tendency can affect the efficiency of the project in the long run and impact its overall outcome.
Thus, to overcome this situation, we have curated a list of questions that can help business organizations to hire top mobile app development companies.
Are you clear about the aim that we need to achieve with the mobile app?
What is your experience in the concerned niche?
How well do you understand the targeted market for these kinds of apps?
What is your prowess on android and iOS platform for app development?
What specific features would you include in the MVP of the app?
Conclusion
To avail the desired results from the mobile app development process in 2021 and beyond, the business organization should be on its toes at all fore-fronts. Moreover, hiring a professional outsourcing mobile app development company can do wonders for your project.
Also, doing extensive research and knowing their targeted audience is also essential for businesses. It will help them understand the latest mobile development trends and give the desired results.
The post How would mobile app development outsourcing change in 2021? appeared first on TopDevelopers.co.