Why do most eCommerce and mCommerce platforms fail?
Why do most eCommerce and mCommerce platforms fail?
The estimated market size for e-commerce was valued at $9.09 trillion in 2019, and it is expected that the market shall grow at a cagr of 14.7 % from 2020 to 2027.The growing market size has lured many businesses to start their own eCommerce platforms. Despite increasing consumer preference for e-commerce, most e-commerce platforms are still struggling to increase their sales and find it hard to acquire a loyal customer base. Poor planning and design are two of the most important causes of e-commerce failure.
Entrepreneurs can always hire top e-commerce developers to make sure that they do not face failure while building an e-commerce or m-commerce platform, it is always good to know the pitfalls. In this article, we will look at some of the most common mistakes that e-commerce platforms make.
Important Factors ignored leading to eCommerce failure

Not designed for mobile
A big reason why m-commerce apps fail is poor UI & UX design which clearly states that the app was not for mobile. Mobile traffic has increased phenomenally in the past few years and forms a significant chunk of today's total internet traffic. Experts find that most of the websites are designed such that the mobile version acts as the web version on a small screen. Such an approach limits the ability of the platform to provide an engaging mobile experience to the users.
Examples of poorly designed UI/UX are e-commerce platforms like kayak and Skyscanner. Upon viewing these platforms one can clearly see that they are not built for small screens. The inability of these platforms to perform on small screens pushes the users to other websites.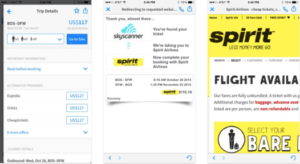 Avoid baffled homepage
The homepage of an e-commerce platform is the first thing that users notice. A primary reason why e-commerce apps fail is that they try to put too much information on their homepage. Trying to put too much information in the homepage is an example of bad UI/UX design as the users have to struggle against a lot of irrelevant information before they find what they were looking for. Although the first impression is not the last, it is a lasting impression, and a baffling homepage will give a pretty bad impression. The homepage design should be aligned with the target audience's requirements, and it is vital to have a coherent and straightforward flow. An over-complicated homepage will confuse the visitors and prompt them to leave. A clutter-free and straightforward homepage streamlines the process and facilitates easy decision making.
No personalization
One of the most substantial incentives for users to download an e-commerce app is personalization. According to a report, many e-commerce platforms miss out on significant revenue opportunities by failing to personalize the customer's shopping experience.
Following are how an e-commerce app can personalize the user experience.
• Remember the user's previous searches.
• Save the purchase record of the user.
• Suggest similar products that suit the user's shopping history
• Offer easy navigation and checkout.
Personalization ensures that the customers keep coming back for purchase and it also reduces the cognitive load of the customers by easing the decision-making process.
A large Number of Crashes
Amazon.com lost $ 66,240 per minute in 2013 when the e-commerce site crashed; imagine the amount today. For an e-commerce site, it is critical to avoid frequent crashes for smooth operations.
Here are a few reasons why e-commerce sites crash
• Coding errors
• DDOS attacks
• Unusual traffic
• Malware and ransom ware attacks
• DNS provider downtime
Whatever may be the reason, the result is always the same, frustrated users. The developers can consider using options if coding for iOS and exceptional handling if coding for Android.
Low-quality product images
One of the biggest mistakes that e-commerce platforms make is not having high-quality product images. A study suggests that 56% of online customers won't buy from an e-commerce site that does not provide complete product information. High-quality photos play an essential part in conveying critical information about the product to the customers, which ultimately aids the customers in making buying decisions.
To make sure that the user has a good experience, the images must be
• Large and clear
• On a white background
• Shot from multiple angles
• Have a zoom feature
• Have the correct file size
• Should have correct names
• Have alt-tags to make the image accessible for all customers
A/B testing the images is an excellent idea to know which product image can improve conversion and retention rates.
Large Response Time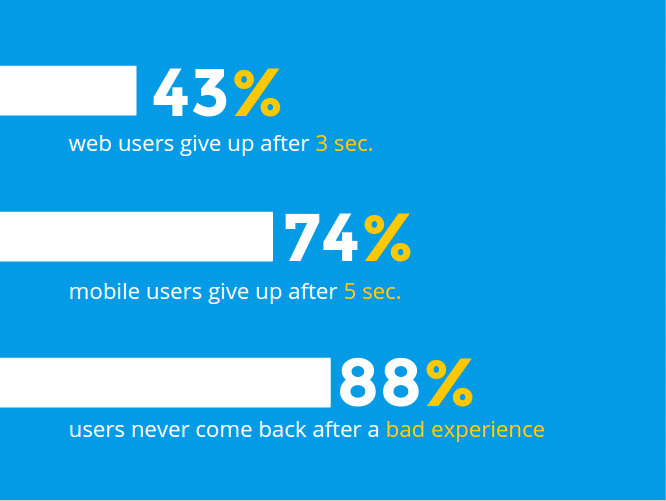 A delay of even a few seconds is enough to drive the users away from an e-commerce platform. It would be good to show a loader instead of showing a blank screen if the response time is considerable. E-commerce platforms should do code optimization to detect the loopholes present in their code. Conducting a code optimization analysis will help e-commerce platforms in identifying whether their code is redundant or not. Code redundancy is a significant reason for the ample response time.
Lack of clarity in Checkout procedure
A complicated checkout process can turn off for many users and finally result in cart abandonment. According to a study, the average shopping cart abandonment rate stands at 87%.
The following things make the checkout procedure complicated.
• The platform does not show the total order cost upfront.
• Not enough payment methods
• The platform asks for too many unnecessary details.
• Has long forms at the final stage of the purchase
• The returns policy was unsatisfactory.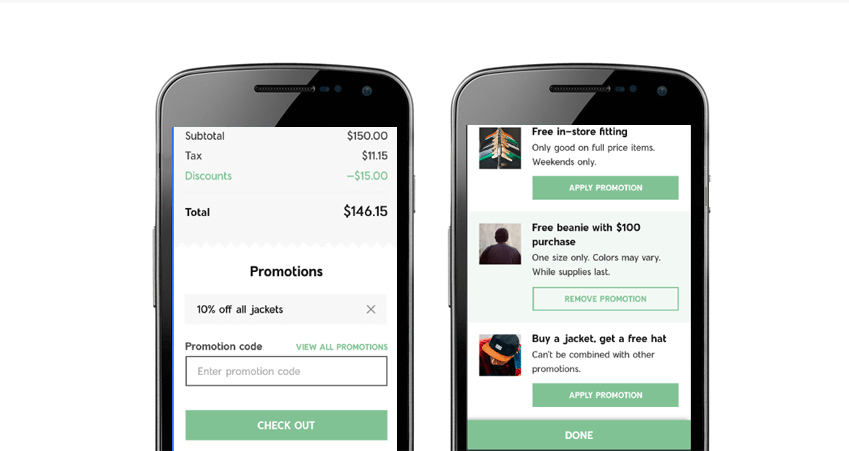 A checkout process for an e-commerce platform should be fast and should have an easy to understand flow. There are many ways to avoid shopping cart abandonment but no method can compensate for a poor UI/UX design.
Mentioned-below are some things that can aid in making the checkout process faster
• Allow the users to save their payment information
• Offer guest checkout
• Make it easy for the users to reset forgotten passwords
• Use progress indicators
• Provide a summary of cart contents
Lack of confidence amongst users regarding payment security is another major reason for e-commerce failure. Nobody is going to buy from an unsecure e-commerce platform. To instill confidence amongst users regarding payment security, the e-commerce platform owners must take robust security measures like
• Payment Card Industry Data Security Standard (PCI DSS)
• Get an SSL certificate for your e-commerce platform
• Multi-factor authentication (MFA)
Another point to note is that if a transaction failure occurs, then there should be a mechanism to ensure proper handling of transaction failure. The user must get a clear message that a transaction failure has occurred. There should be an alternative payment gateway to ensure that the transaction is completed. There should be clear communication regarding the reason for failure and the days in which the failed payment amount will get credited to the user's bank account.
While designing the checkout process, the main goal should be to reduce friction and reassure the customers that they are making a great choice. An excellent example of a smooth guest checkout is the website of Frank And Oak.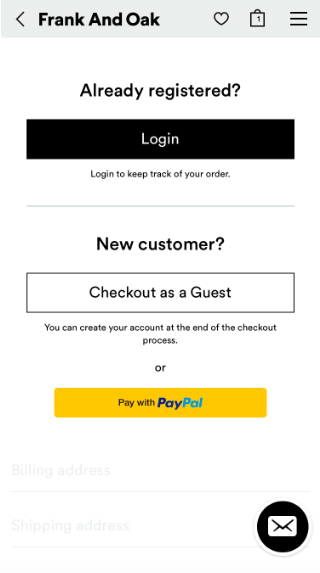 In the checkout process, the error messages should explain to the user what went wrong and how to fix it.
Here is an excellent example of a straight forward form field error message.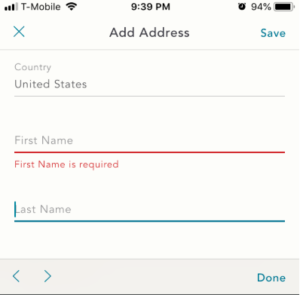 Essential functions out of thumb's reach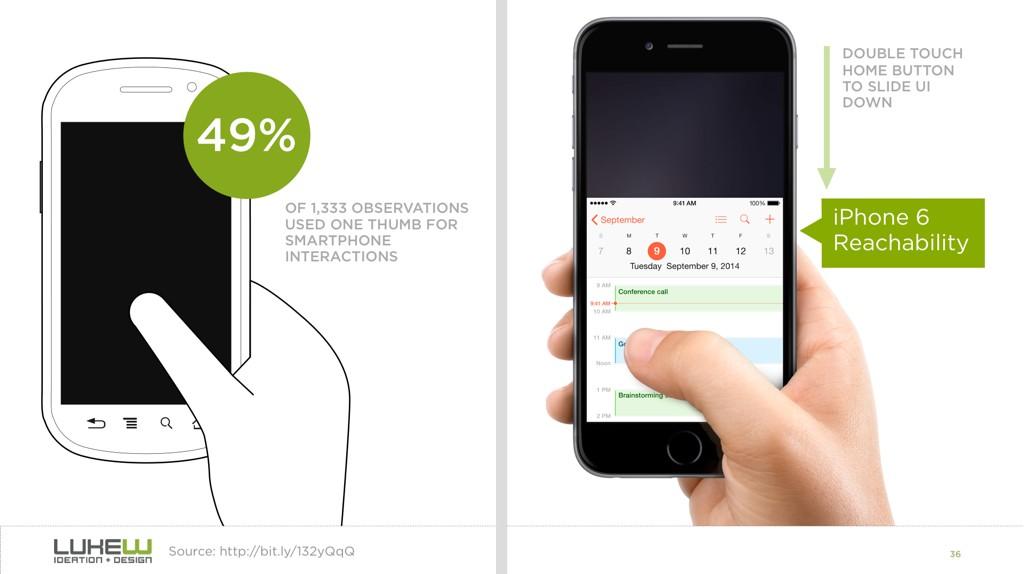 Putting key functionalities out of the thumb's reach is one of the most common mistakes that e-commerce platforms make. According to a study conducted by mobile expert Steve Hoober, most people use one hand while operating their smartphones. The result of Steven Hoober's study
• One-handed: 49%
• Cradled: 36%
• Two-handed: 15%
This study indicates that by keeping critical functions out of the thumbs' reach, the app builders make the experience difficult. If too many functions are out of thumb's reach, then it shows lack of proper UI/UX design planning. The smartphone screens are getting larger, making it difficult to operate a smartphone with one hand. Larger screens also mean more challenging access to areas that are further out of the thumb's range.
Ineffective search feature
Many e-commerce platforms ignore the search feature and give away an excellent opportunity to improve their conversion rate. Through the search feature, the users can simply type the product they are searching for and quickly check out instead of looking around the website. E-commerce platforms should ask the following questions to themselves while designing the search feature.
• Is the feature of helping users in finding the product they are looking for?
• Does the search feature enable users to discover new products?
• Is the auto fill feature working correctly?
• Is the search bar easily identifiable?
Examples of improper design in e-commerce
Shown below are some examples of improper design in e-commerce platforms that hamper the user experience. Poor UI/UX design can quickly put an e-commerce app into the list of online shopping apps that failed.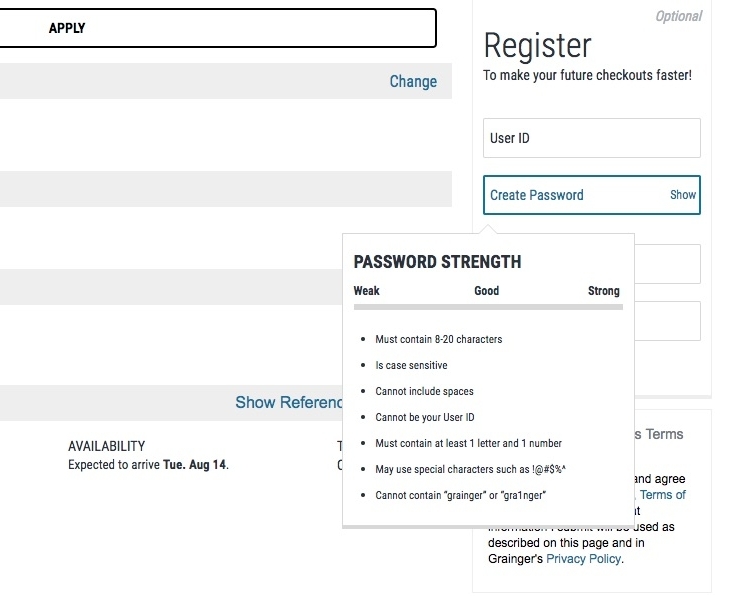 Grainger.com has an excessively complicated password creation procedure that repels the users from the site. According to a study conducted by baymard.com, around 7 out of 10 sites have overly complicated password creation requirements, forcing many users to use a password that they won't remember later. The study also found out that 1 out of 5 customers will abandon the cart due to extensive and strict password rules.
A balance should be created between letting the users set a strong password and creating a password that they won't forget later.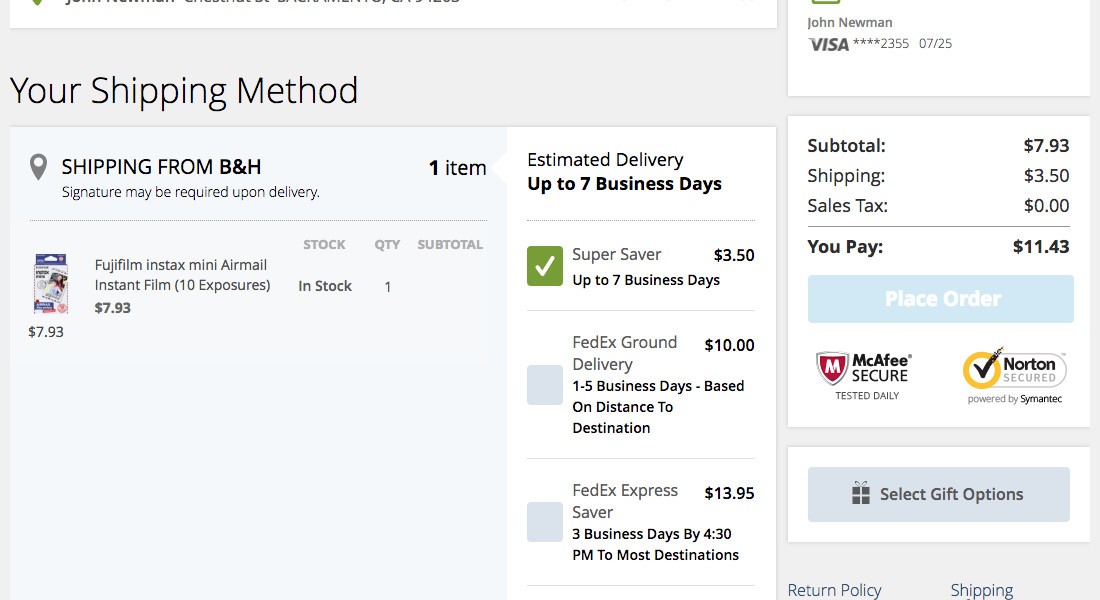 While ordering stuff from e-commerce platforms, the delivery date is a significant concern. A common mistake that many e-commerce platforms make is that they do not state the delivery date clearly. Baymard found out that 34% of Sites Use' Delivery Speed' Instead of 'Delivery Date.'
For instance, many sites use the term.
Delivery speed
Standard: 2 business days
This is ambiguous because the users have to calculate the date when they will receive their shipment. Instead, the e-commerce platforms could choose to display the delivery date directly or display a date range like"
Delivery date
4th March to 6th March.
By stating the delivery date directly, the e-commerce platforms can reduce the ambiguity and make the consumer experience smooth.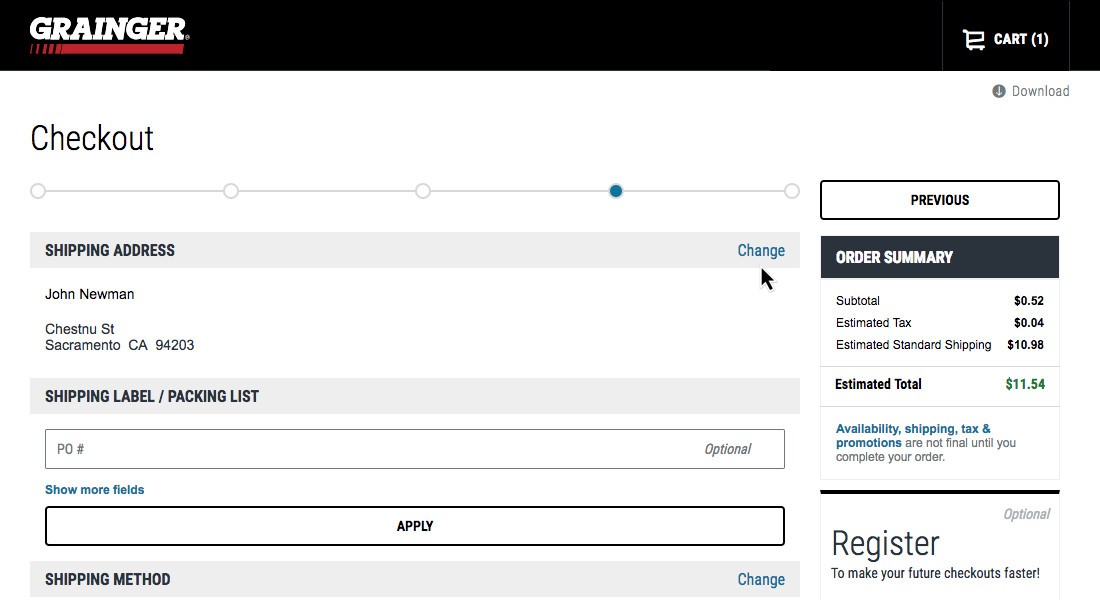 The study by Baymard also found out that 7 out of 10 sites do not allow the users to edit data directly at the order review stage. The edit links send the users backward and cause confusion and frustration. The constant back and forwards movement makes editing even simple typing mistakes a harrowing experience for the users.
What Walmart did to fix their e-commerce website?
Walmart Canada could have easily been on the list of flopped e-commerce apps, but the development team at Walmart realized where they were wrong and made the changes accordingly. Walmart Canada wanted to improve its conversion rate. The team at Walmart found out that a majority of their customers were using tablets. Walmart Canada decided to have a re-look at their website to make it tablet-first. What they noticed was that they needed to make their website more "touch-centric." A "touch-centric" website is both touchable as well as "clickable."
The development team needed to identify ways to present everything in a friendly manner on a smaller screen. The tablet-first approach of Walmart Canada helped the team lay the groundwork for adapting the website on an even smaller screen, the smartphone. The team learned where they should condense the information, which helped them build a site that looked good on the smartphone.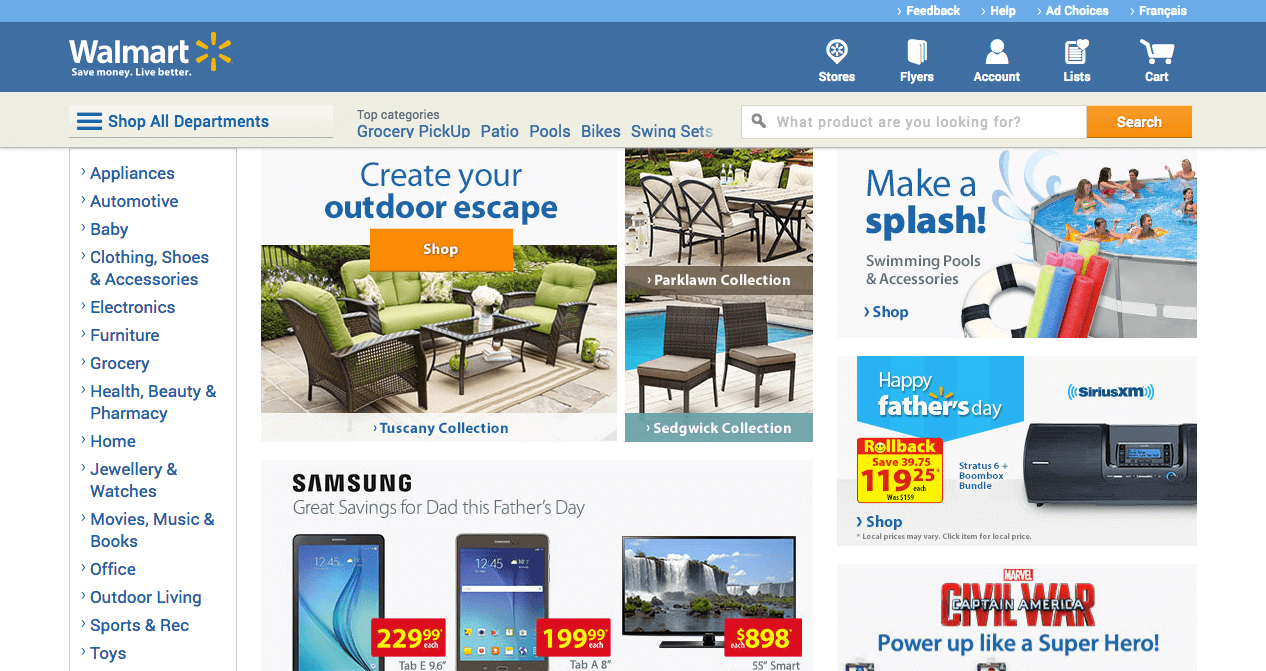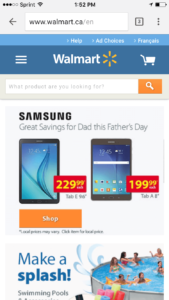 The team at Walmart Canada ensured that the right content was prioritized according to the device. For instance, in the above image, one can see how the electronics products are prioritized in smartphone view. The Walmart team optimized product category pages as they found out that showing 60 products per category was the sweet spot that maintained site speed and reduced the number of taps that a user had to make to view more products.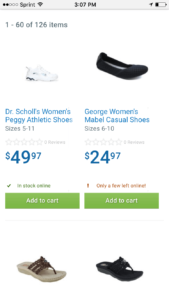 Previously there were two buttons; a green add to cart button and a gray view details button for items out of stock on the Walmart website. Walmart removed the out of stock button and kept only one adds to cart button.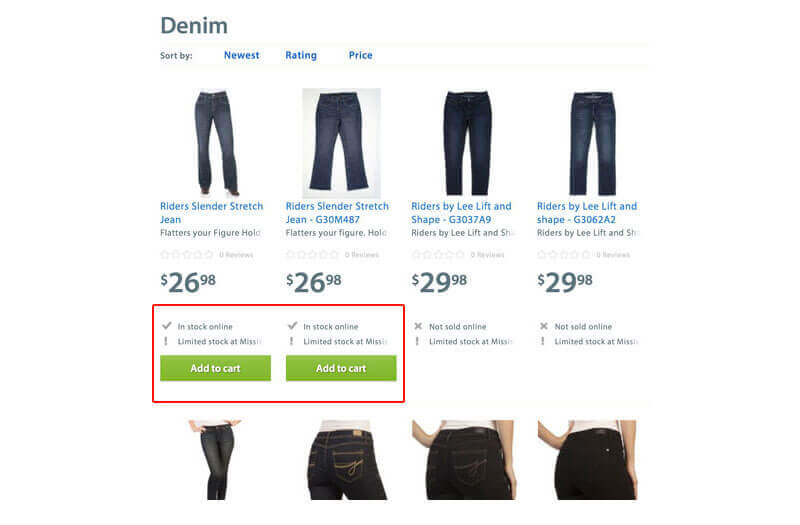 This simple step of keeping one clear CTA helped increase the conversion rate because the customers knew that the item they were using was available online, providing them an incentive to purchase it. These little changes increased Wal-Mart's conversion rate by 20% and helped in doubling mobile e-commerce sales.
Insufficient marketing strategy
Despite building a great e-commerce app if no one is using your app then an insufficient marketing strategy might be the culprit. All entrepreneurs know that if the website isn't ranking in Google, then it is difficult to succeed; hence special care needs to be taken to ensure that optimum strategies to market the ecommerce platform are put in place. Here the marketing strategies should be about reaching out to the targeted audience. Ecommerce search engine optimization should form a big part of the e-commerce marketing strategy.
According to a statistic around 71% of traffic is captured by the first page on Google. Although SEO is an important part of a marketing strategy, it isn't the only one. An effective marketing strategy is the key for success in any business and in the competitive digital landscape businesses have to adopt a 360 degree marketing strategy which includes social media marketing. Businesses must make social media an integral part of the marketing strategy as inefficient social media syncing can ruin the e-commerce app of an excellent business opportunity.
While designing the marketing strategy try to keep the shipping costs included in the price of the product. According to a research high shipping cost was the primary culprit for shopping cart abandonment on e-commerce stores.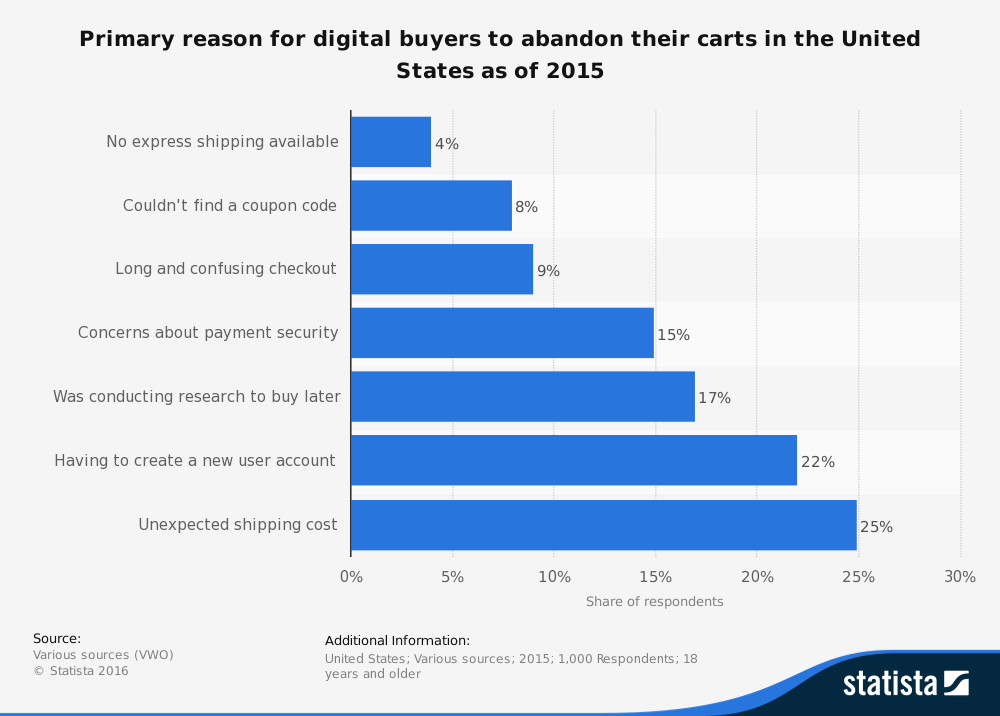 Marketing is not a one-way process and one has to collect market feedback regarding the product and thoroughly. Businesses must make sure that the marketing strategy is customized according to the preferences of the customers. One should understand that nobody can find your app without an effective marketing strategy. It is a good idea to hire top digital marketing service providers to ensure that the e-commerce platform gets a robust digital marketing strategy.
Wrapping up
The key to growing e-commerce sales is simple, create a memorable shopping experience. To achieve this, your e-commerce business must continuously adapt to the changing needs of the consumers. We hope that this article will help e-commerce platform owners avoid costly mistakes and help answer how to make your online shopping apps successful?
The post Why do most eCommerce and mCommerce platforms fail? appeared first on TopDevelopers.co.