Artificial Intelligence & Marketing: Do They Feasibly Match?
Artificial Intelligence & Marketing: Do They Feasibly Match?
The Marketing sphere experienced a remarkable revolution with the advent of the Internet.
People got a new expandable mode of effective digital marketing trends with productive ways of selling, new ad formats, and scalable channels with which the scope to reach millions of users became more realistic.
It further gave wings to the top digital marketers to reach the unreached like never before.
This revolution didn't come alone but was accompanied by a huge volume of data processed by innovative technologies that detail each step of the customers in their purchasing process and enabled a greater number of interactions with the user.
Then came the Digital Revolution!
With the appearance of technologies such as Big Data, Data Science, and Artificial Intelligence, marketing took deep digital grounds, allowing a business to manage all of the user-generated information and find changing patterns, analyze customer behavior, and even predict future events and aspects.
This is why the application of technologies such as Machine Learning or Deep Learning in Marketing represents a great competitive advantage.
Marketing Reshaped by Artificial Intelligence
Artificial Intelligence (AI) well integrates with Online Marketing, where brands engage with consumers through data and more data. Many businesses have adopted cognitive technologies in their operational processes and have earned more than 80% of the positive returns over their investment.
With technology advancing with leaps and bounds, marketers believe that complex business challenges could be eradicated making alliances with cognitive technologies that require humans to work closely with automated software and machines to gain benefits.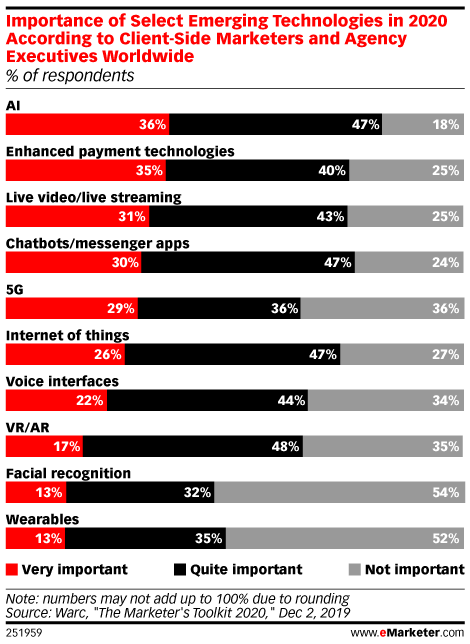 Source: emarketer.com
When we look deeper into the aspects of marketing, one can witness long hierarchies and multiple steps involved in a customer's buyer's journey before executing a successful purchase.
There are four primary phases of a Customer's Life Cycle which are the pivots to hit for digital marketers to gain exponential gains over their advertising efforts.
Let's have a look at those stages one by one:
#REACH
The primary goal in this phase is to publicize your business, products, or services and keep a close check and monitoring of the visitors, followers, their quality, demographics, and number of visits, and traffic acquired.
#ACT
This is the decision phase where visitors start considering your offer (a product/service/item) for making a purchase. Here your critical indicators are the times of visits, comments or interactions, and the conversion ratio into leads (potential customers).
#CONVERT
In this phase, your marketing efforts pay you well by converting a potential lead into a customer who ends up buying your services. Things to keep track of include: the average amount of orders, income, new customer ratio, etc.
#ENGAGE
Marketing doesn't end with a sale of a product or item, one must retain their customers for future interactions and up-selling. Here you must not lose focus from attaining customer loyalty, customer satisfaction, and repeat purchase.
Take a look at the below diagram that shows the Artificial Intelligence applications in each of the phases of the Customer Life Cycle: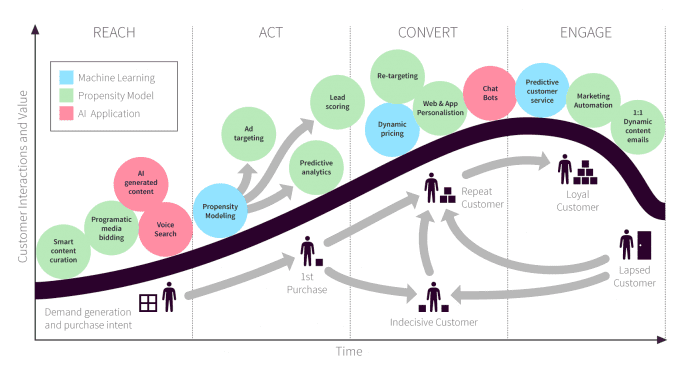 Application of AI in the different phases of Marketing
Now let's get our attention towards some real examples of the use of Artificial Intelligence (and its subsets Machine Learning or Deep Learning) in Digital Marketing, influencing each phase of the customer life cycle.
The role of AI in the Distinct Phases of Marketing
#Artificial Intelligence in the Reach phase
One of the best ways to reach a larger audience is through creating and promoting proper content via apt channels. There are many automated content creation tools available in the market. You describe the desired topic in a paragraph and the AI system investigates it in different articles and Internet posts and creates original content.
But perhaps the most spectacular example is Heliograf, the Washington Post news robot that wrote over 850 automated news stories in its first year (2016).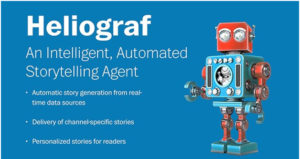 Although it may seem to some that it may jeopardize the workplace of journalists, the truth is that they use it as a tool that facilitates their day to day rather than as a substitute for the human journalist.
For example, the system detects trends in areas such as finance or business and reveals them to journalists to write their news. In this way, they reduce their research time and focus more on delving into the subject and writing.
The news that Heliograf writes directly is usually in areas where immediacy is valued much more than the depth of the article, such as sports or political elections.
#Artificial Intelligence in the Action phase
As we have highlighted at the beginning, in this phase the user is interested in your product or brand. You already have it browsing your website or social network and you need it to stay as long as possible and try to capture it with different purchase options.
One of the most prominent AI solutions in this area is Amazon Personalize. Through Machine Learning algorithms, the giant Amazon makes our e-commerce product recommendation system available to us for use on our platforms.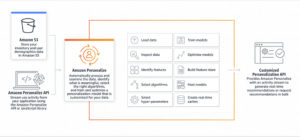 Another way to get our visitors to find what they are looking for and to stay longer on our website discovering products is the famous Chatbots.
The company Service Global Solution predicts that 95% of customer interactions will be without human intervention in 2025. One of the most advanced brands in this area is Sephora, which has had an AI-based chatbot since 2016.
#Artificial Intelligence in the Conversion phase
The moment you have to get the customer to finish shopping, Artificial Intelligence can help you improve your conversion ratio.
A clear example is that of Stitch Fix, a website that works as a personal stylist, mixing human stylists and AI algorithms. By registering and choosing a style, they send you a pack of clothes and you decide what you like and return what you don't want.

Stitch Fix uses Artificial Intelligence for style recommendations
With the data collected from its customers, brands, and interactions (what you see on its website, what you return, etc.) the algorithm is learning and its recommendations are getting better and better. Consequence: increase your conversion ratio.
Apart from styling, the brand uses Machine Learning models also for inventory management and other areas of business. In fact, on their website, they have a Tour for their algorithms.
Must Read:- Artificial Intelligence in eCommerce Industry
#Artificial Intelligence in the Loyalty phase
It is obvious that systems like the Stitch Fix also represent customer loyalty since by creating a style and improving recommendations every time, you ensure that the customer is faithful to your brand. But, we see other different examples in the loyalty phase.
A well-known case of using Artificial Intelligence to get the customer hooked to your brand is the My Starbucks Barista functionality included in its mobile app. With it, a customer who already knows their coffee can request their usual order, modify it, and even pay for it from the app through a Chatbot.
With this, they make it easier for the client to be faithful to their brand.
Another use of AI in loyalty is the Deep Learning tools for recognizing your Logo. Thanks to this technology, the system can sweep social networks or videos detecting your brand and even the feeling that the user expresses in that image.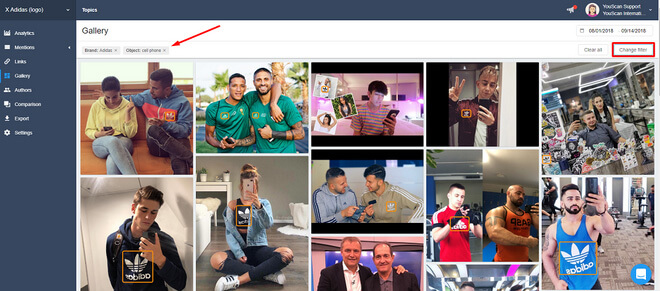 Detection of Logos in Social Networks
In this way, you can automatically send comments to those posts or publications that trust the user.
AI-powered tools like Clarifai can even detect your product in different formats. They can also directly recognize your product.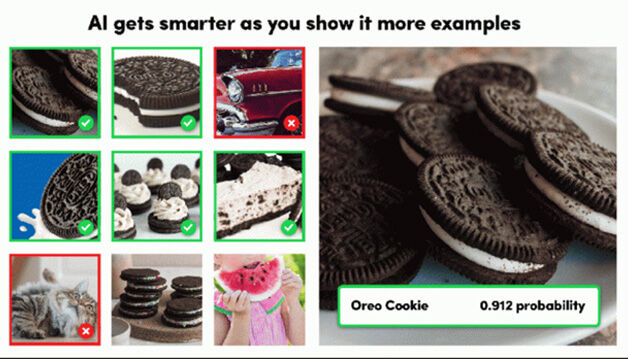 AI gets smarter – Oreo Example
The Last Say
With all these examples of how AI technology helps in marketing, the advancing technology is not going to stop making further contributions to transform the world of marketing.
The applications of AI with marketing fundamentals that we see today are just some of the initial ones, the Revolution has just begun. The ultra-personalization of services/products is an upward trend and this can only be achieved by knowing your customers closely and predicting the user intent.
There are many reasons accountable for why these technologies take on such special importance and will continue to do so in the future with their ever-widening scope of bringing revolutionary changes.
The post Artificial Intelligence & Marketing: Do They Feasibly Match? appeared first on TopDevelopers.co.