Importance of Chatbots for Businesses
Importance of Chatbots for Businesses
A few years back, online marketing was all about the applications or infographics, but for quite some time, there is a player that has really been playing well: THE CHATBOT.
What exactly is a Chatbot?
A chatbot is a smart program based on Artificial Intelligence (AI), which can simulate the communication with the user in a natural language on websites, messaging applications, and even through mobile phones. In other words, a chatbot is an AI-powered program, specially designed to communicate with the users, just like a human being over the internet.
Chatbots are programs powered by artificial intelligence (AI) that are built in a way so as to understand the language of the users and respond to their queries accordingly. Thus, they not only understand the commands but also the language as well. And, the more they interact with people, the more intelligent they become.
There are two types of chatbots – Simple and Intelligent.
Simple Chatbot
This is the simplest type of chatbot, also known as a scripted chatbot. This type of chatbot communicates with the user in predefined ways and directions. In other words, the user will get a response to their query, from a set of pre-programmed responses. You can see such simple or scripted chatbots in popular messaging applications such as Skype or Messenger.
Intelligent Chatbot
These are AI-powered chat machines that provide more flexible responses to the user's queries. They do not rely on pre-programmed responses; instead learn from each conversation with the user, to answer better in future conversations, however, there are some limitations. An AI-powered chatbot still cannot comprehend complex queries or lead the conversation, and rather only answers the queries.
Nowadays, the rise of chatbots is on the steep rise. These AI-powered chat machines are gaining popularity than ever and have become the need of the hour for every business. Having chatbots means staying connected with your audience 24*7.
A report by business insider says that by the end of 2020, 89% of organizations are predicted to have some sort of chatbots implemented.
Chatbots are not only beneficial for businesses, but also for customers too!
These AI-powered virtual assistants get to engage with users and improve customer's experience by managing their requests with instant responses. Because of chatbots, Customers do not have to wait for assistance and they can get instant answers to their queries.
According to a story from Hubspot, 47% of shoppers would buy items from a chatbot.
Let's plunge in to know how chatbots enable you to benefit from your business
Excite Your Customers
Do you know, more than half of the consumers prefer chatbots to humans when it comes to saving time? This implies that businesses may excite their customers by sending push-notifications about exciting offers on their products and services.
However, to be successful, you need to first make sure that your chatbot is AI-powered, bug-free, properly aligned with your brand, and is capable of working seamlessly on multiple devices.
Enhance Customer Engagement
For the success of every brand, engagement with the audience is the most important thing. A chatbot helps in increasing customer engagement by making the communication more interactive and informative as well. They don't wear off the clients with irrelevant information or keep the client waiting for a solution by prolonging the conversation.
Chatbots Won't Replace Humans
Indubitably, a chatbot can handle multiple tasks concurrently, but still cannot replace humans, obviously! There's a misconception that as the chatbots are evolving there won't be any need for human employees.
However, this is not likely to happen!
A human has a real-time understanding & reacting ability, way better than machines! It's true that a chatbot can answer simple queries, but still, it is not capable of determining the visitor's initial query, which is further passed on to the human.
Improve Sales and Customer Services
Chatbots are self-help tools. They collect information such as name, contact details, and professional information to create a basic customer profile. This information may further be used by marketers to improve marketing and sales. Chatbots also improve your customer support services with the help of AI. They act as a bridge between your brand and audience and engage with your audience, by interacting with them through stimulating conversations.
Also Read: How Chatbots are useful to Increase sales in E-Commerce Industry?
Showcase New Products and Services
Chatbots offer an interactive platform for broadcasting and reaching the masses. They maintain friendly and consistent contact with the potential audience.
This forms a reason for push notifications to showcase your new products and services. These notifications may help you in increasing your sales, as these are sent only to your potential customers.
Minimal Cost but Maximum Returns
The best thing about chatbots is that they are inexpensive. Some popular platforms such as Facebook Messenger, offer the inbuilt basic chatbots for your business pages. You just need to turn them on. Also, they do not require any kind of maintenance. Undoubtedly, chatbots are the cheapest and best means of offering an engaging experience to the users.
Global Approach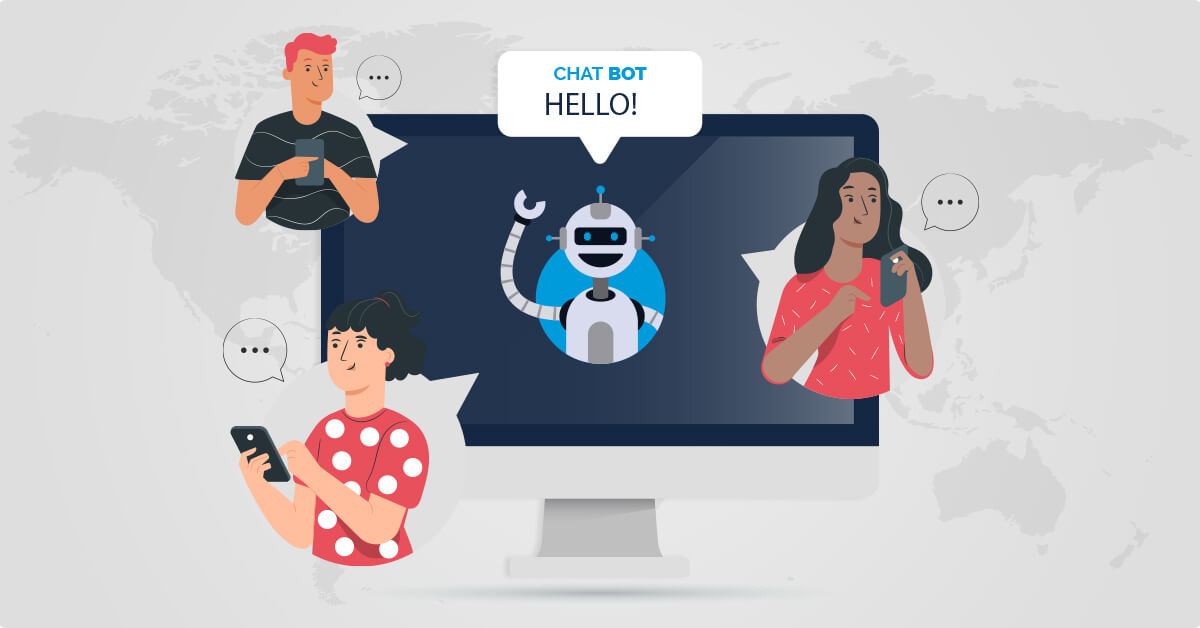 Whether you are a local brand or an international brand, you can connect and engage with your potential customers all over the world. You don't even need to worry about different languages, as the chatbot can handle that. This helps in increasing your global reach, and thereby the sales.
Monitor Data
No doubt, a chatbot is an amazing tool to communicate with users. It also helps in improving your conversion rate. For instance, if any of your landing pages are not converting well, your chatbot may raise a survey for that page and collect the information which may be helpful for you, in improving your marketing strategy.
These AI-powered chat machines track purchasing patterns and customer behavior, by monitoring the data. This helps a marketer to evaluate and decide which products or services require improvements.
In The Nutshell!
Whether it's about the development of smart cities, homes or phones, the automation technologies are taking over all the spheres of our lives. With every latest development, we are moving one step closer to a more connected digital future.
Undoubtedly, chatbots are here to stay and will impact businesses and consumers. Incorporating chatbots in your business may save your money and improve sales.
Do you know, 60% of the people are already using chatbots daily!
Still, not using chatbots for your business?
It's the right time!
The post Importance of Chatbots for Businesses appeared first on TopDevelopers.co.