Why are Mobile Advertisements working better than online ads on websites?
Why are Mobile Advertisements working better than online ads on websites?
There is a fearsome competition out there. Every day thousands of websites get indexed, and if no work is done on them, they will get lost deep under the later pages of Google search pages.
Of course, no one in their sane mind wants to end-up there. A product or service needs to reach as many people as it can. Compared to Traditional Marketing, Digital Marketing is a better option for your online business needs. However, the increase in mobile devices has shifted the direction of how marketers and consumers perceive marketing at all.
Today you'll get to know in detail about why Mobile Advertising is more effective than Traditional or Online Advertising:
Why Mobile Ads are a necessary strategy to create your Brand name?
It was observed that 52% of consumers use a mobile device to find and buy their favorite products online. Moreover, 69% of mobile users prefer to buy products if they can get their answers on their mobile phones.
Mobile devices are now part of our lives. We cannot live without them. So, naturally, we try to do everything using a mobile phone that includes searching for a product, buying a product, or even reading a review of the product on the Mobile Phone.
Today's customer prefers to use a mobile device to access their internet rather than using their laptops. This makes it clear that most of the users are already on smart-phones, and Businesses need to tap into this area to increase its market value.
Mobile Marketing allows to reach a wider audience
On a Computer, there is just one way to show an advertisement, and that is via a Web Browser. But on a Mobile Device, there are multiple ways to showcase ads of your business. For Instance, Some ads are shown while the users are using the apps, whereas the other way through this is to show the ads while a user is exiting the app or at an important juncture in the apps. More ads grab the attention of users when they use social media apps. Also, Social Media Apps are one of the best ways to get the attention of a wider audience and so if your business wants to grab the attention of a number of users towards your ads then Social Media Apps are the best medium to start with.)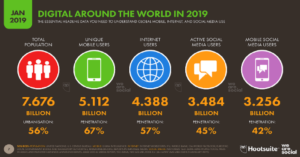 In a way, a social media app gives more opportunities for product owners to target their customers via several mediums.
Since there is a wider populace to be found on mobile phones these days use an app, there is a higher chance that people will see more ads on mobile as compared to anywhere online. And, the good thing about mobile ads is that they can reach more people at a minimal cost.
Create more Engagement
As mentioned earlier, consumers trust brands with Mobile App. So, if you don't have a Mobile App, you can ask a professional app development agency to build an app for you. With an App, You can develop trust among the customers.
There are millions of apps uploaded on Google Play Store and App Store, but to create more engagement, you need something different for your app. This means that you need to write the app description in a way that entices users to download the app. This is where you can have the option for one of the most important ways to display your ads. In-app advertisements are found to be very effective by businesses to gain better results.
It is known that different mobile gaming apps use these types of ads to engage with users, which leads them to solve their problems by attracting a good number of users.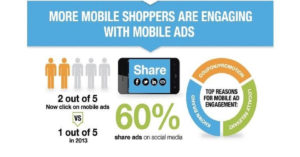 Enhanced Targeting
It is relatively easy to advertise on mobile devices as every brand has data about the customer and that data can be used to target new potential customers and further used to re-target old customers.
For example, demographics like age and gender can help the company target ads that have a higher chance of converting. By aptly using this information, it is easy to re-target the potential audience.
A good example of this is a traveler who on turning on a mobile device in a particular country will get ads that are limited to the city where the traveler currently is… This ensures that businesses have a better chance of showing more meaningful advertisements based on the user's preference and tracking current location.
Also Read: How to Reach your targeted audience?
Higher-Click Through Rate
The mobile ads have a high click-through rate, which means that there is a higher chance of engaging users. Since the ads can appear both online and offline in the app, there is a chance that more people will be able to see the advertisement.
The brand owners have a responsibility to create ads that look good on a mobile app and Responsiveness plays an important role in it. Most of the marketers suggest using a minimalist approach to create ads. In this way, it will be easy for users to focus on one major thing.
When users browse on their mobile phones, they do it with more focus. Therefore, a clear Call-to-action helps the user to see the ad and take and act accordingly.
In a Nutshell
As you might have guessed that Mobile Advertising is the future of brands as it is not just limited to mobile apps applying various other technologies that will pave the path for even better models of marketing opportunities. Even if you were not using it till now, it is time that you start using and advertising through Mobile Apps. Whatever you share will reach a wider audience, and people will engage and react to it. It is up to you to get better engagement from it and make the best of it by learning the tools, tips, and tricks to grab the attention of the audience and at the same time, stay relevant to the current market trends.
The post Why are Mobile Advertisements working better than online ads on websites? appeared first on TopDevelopers.co.